Introducing our new range of hand made wooden photo frames.
We are pleased to announce that supplies of wooden mouldings are inmproving at last and have launched our Siena range of hand made frames. Available in two colours, off-white and a light sage green the moulding is made in Italy and features a distressed shabby chic styling with a raised exterior edge and brush line detail.
The high quality obeche moulding is approximately 1" (25mm) wide and 3/4"mm) deep
Frames are available from 6x4 inch to 12x10 inch, including an A4 certificate size.

All frames may be displayed in either direction and have sturdy strut backs. You can find the complete range HERE and they are included in our click-and-collect offer.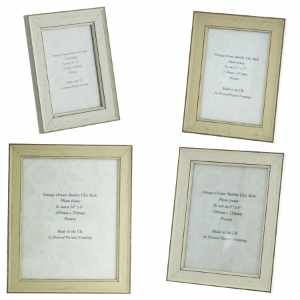 Recent Posts
We're Going Local!After a number of requests we have now launched a click and collect service for ou …

We're having a big clear-out of our photo frames before all our new lines arrive.Discover big discou …

Introducing our new range of hand made wooden photo frames.We are pleased to announce that supplies …